Create account
Get signed up for your personal account.
DW TRANSTEL - HIGHLIGHT PROGRAMS
Culture bauhaus world
Category

Documentary/Clips, 60/3-5/1 min., HD
What do escalators in Medellín, Arabic lettering in Amman, story-telling furniture from London, urban farming in Detroit and a co-living complex in Tokyo have to do with the Bauhaus? We meet architects, urban planners, designers and artists from around the globe who, in the spirit of the Bauhaus, want to rethink and change the world. Segments on the history and philosophy of the Bauhaus provide context and background to some of today's most pressing issues.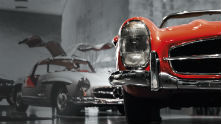 Motoring Motoring Legends
Category

Documentary, 30 min., HD
The Mercedes 300 SL was technically superb, the Jeep is the mother of all SUVs, and the Citroën DS was and still is simply wonderful. Such vehicles are icons of the zeitgeist that prevailed when they were built. They also exert an influence on contemporary design – because they stand out from the crowd, have character and a story to tell. Some are admired or even adored by all – designers, engineers, vintage car fans and neutral observers alike – as vehicles of legendary status.
DW TRANSTEL - NEW PROGRAMS
Our MIPTV 2018 Line Up
Category